Welcome to part three of breaking down the article Entrepreneurship Skills for Growth-Orientated Businesses, to key findings that could benefit entrepreneurs and businesses that are trying to grow and excel.
We suggest you read part one about barriers of growth and key internal factors that influence firm growth, and part two, discussing how to overcome the barriers and what entrepreneurship skills are required.


In this last segment we are going to talk about entrepreneurship training, trough examples of training programs.
Many countries and international bodies (such as the EU) have attempted to promote growth-orientated entrepreneurship either through direct measures or indirectly through policy instruments. So, policy-makers must consider how they can improve public policy, enable access to markets, provide hard and soft supports, create a supportive culture, and offer greater access to finance. Overall policies should create a positive entrepreneurship ecosystem through which enterprises can flourish, rather than trying to 'pick winners' and foster them".
Here is where training programs come into play. Rae (2012) highlighted, that the key of these programs is 'effectiveness', rather than learning and the importance of personal transformation. Because learning starts with a deeper understanding of one's strengths and weaknesses, and so entrepreneurs must first learn about their own identity and personality. They need to embody an 'entrepreneurial mindset'.
So, the key is effectiveness of programs and personal transformation with the help of policies, that should focus on creating a positive entrepreneurship ecosystem through which enterprises can flourish.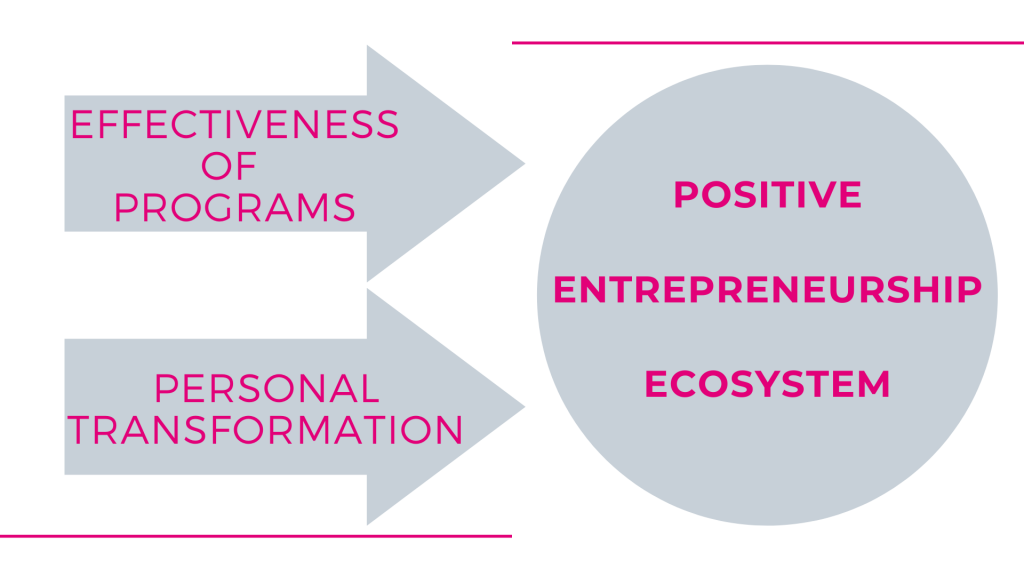 Now we are going to list some examples of European Union programs, mentioned in the research, that try to do just that.
The Enterprise Growth Programme helps small and medium to large-sized enterprises to transform themselves. They enable enterprises to make structural changes and develop new business skills at senior management level, helping them to thrive and compete in market economies.
The Vigo initiative aims to bridge the gap between early stage technology firms and international venture funding. The programme utilises 'Vigo Accelerators' who are mentors that are experienced entrepreneurs themselves. The Accelerators offer their proven business expertise, funding, and extensive contact networks to the target companies. The Accelerators invest both money and time into the target companies and take on both a strategic and an operative role in the companies.
The Endeavour programme's key is mentoring which is provided by entrepreneurs who themselves have achieved international growth with their businesses. Endeavour (a not-for-profit organisation) takes a 3% stake in companies that advance to Phase 2 and provide €5,000 funding and free office space for a year, as well as access to the successful mentors and to funding opportunities. The other interesting element to the programme is the frequent stress-testing of the business model which ensures that the entrepreneur is building a business that has an increased possibility of achieving sustainable success.
All of these programs support entrepreneurs with creating opportunities and help them develop an entrepreneurial mindset. The following conditions must exist if any progress is to be achieved:
The entrepreneur must be motivated to grow the business;
Peer-to-peer mentoring from successful entrepreneurs is a critical element of any training program (mentors must also be motivated to work in this role);
Entrepreneurs must be provided with increased access to networks, finance and international markets.
With these conditions, entrepreneurial skills can be developed, and you can be one step closer to a growth orientated business.

The principal entrepreneurial skills are the following: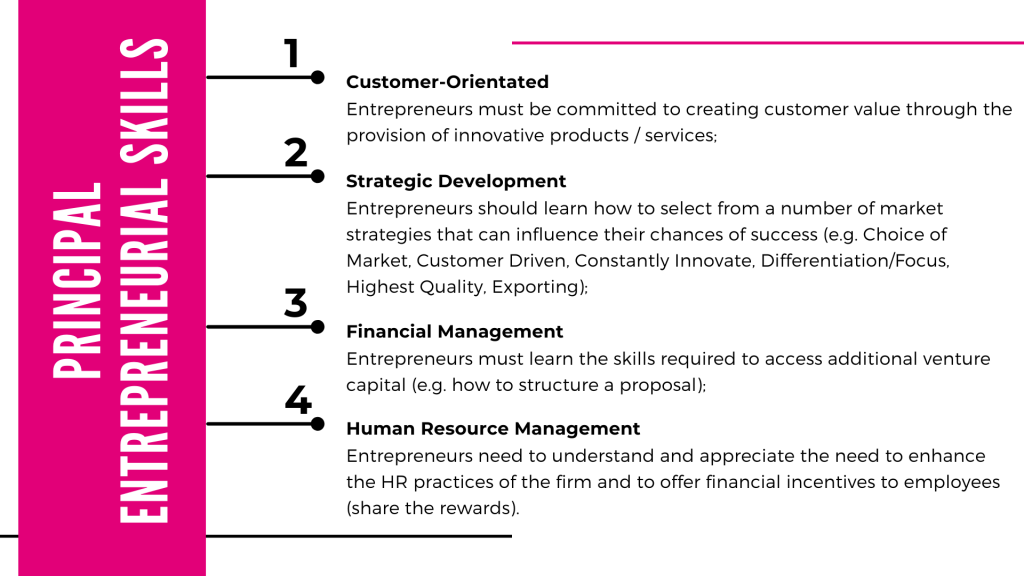 It's a wrap! In three segments we managed to break down the article Entrepreneurship Skills for Growth-Orientated Businesses by Prof. Thomas M. Cooney from the Dublin Institute of Technology. We hope you found some useful information entrepreneurship skills and their importance for creating a growth-orientated business. If you would like to read the whole article, click the following link.