Knowing how to negotiate can make or break your future business deal. And it doesn't have to be complicated science. In the following articles we are going to present some useful tips and how-to's to help you improve your negotiation skills. So, if you have an upcoming sales promotion, a pitch, a business deal negotiation or just a possible salary raise, these tips will help you improve your negotiation skills and help you close that deal.
Let's start at the beginning, the definition. "Negotiation is discussion aimed at reaching an agreement." It's finding collaborative solutions by communicating your needs and interests. And your goal in any negotiation is to extract and observe as much information as possible, so that you can communicate/negotiate effectively.
Therefore, the most important skill is paying attention. It is a base for every following step, so we must master it. And the best way to pay attention is to master ACTIVE LISTENING. People want to be understood and accepted, and when you listen to their demands and feelings they calm down, get less defensive and are more open to other's opinions. Listening is the most active thing you can do. So, practice, practice and practice.
First, we will discuss the very subtle and often forgotten, but very important in any communication; THE TONE OF VOICE. The most powerful tool in any verbal communication is, in fact, your voice. To present this in more practical way, remember the: 7-38-55 rule: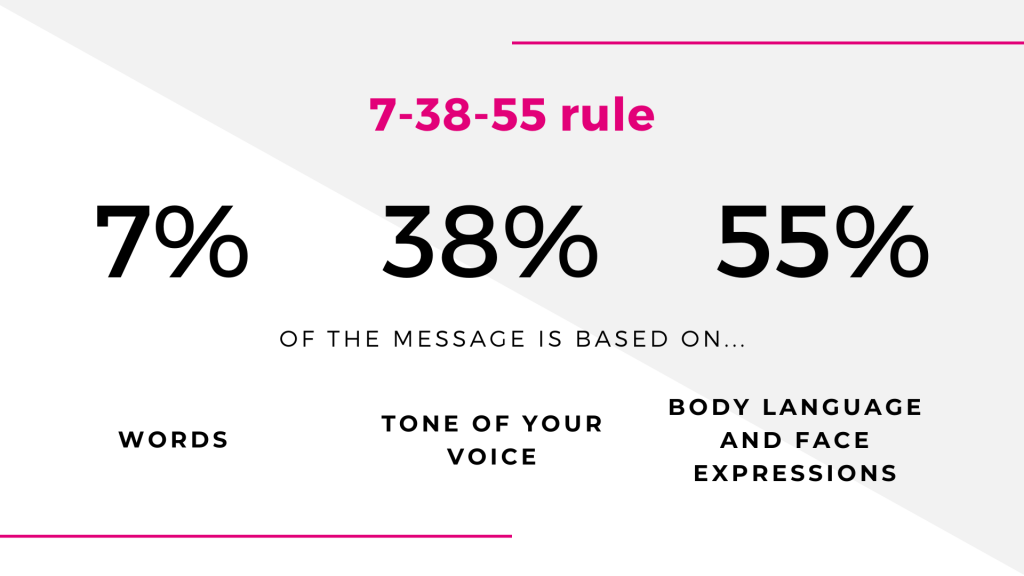 Now you see that voice indeed is important, it's almost half of what you "say". We recommend you use either a soothing and calming voice or a playful and easygoing voice.
When you use the Playful voice, people are in a positive frame of mind, they think more quickly, and are more likely to collaborate and problem-solve (instead of fight and resist). Also, don't forget to smile 🙂
If you really need to calm the situation and reassure that you are ok and are prepared to solve the perceived conflict, use the Calming voice. Because, when you inflect your voice in a downward way, you put it out there that you've got it covered. Talking slowly and clearly you convey one idea: I'm in control.
Now that you know that 55% of your message comes from the tone of voice, be midfull of how you speak. In any negotiation remember: