After reading the article Entrepreneurship Skills for Growth-Orientated Businesses by Prof. Thomas M. Cooney from the Dublin Institute of Technology, we noticed that the presented information could benefit entrepreneurs and businesses that are trying to grow and excel. So, we are breaking down the article into 3 separate segments on how to grow your business.
If we want to discuss how to grow your business, we must first start with the barriers of growth.
Firstly, we must define what is a growth-orientated firm? In the article it is stated, that a growth-orientated firm is measured by a wide variety of growth measures, ranging from increased market share or enhanced venture capital funding, to growth in revenue, return on investment, or the number of customers of a firm.
And growth measures are achieved by overcoming growth barriers, which establish a different set of obstacles for the entrepreneur. And the primary issues involved in growth are (1) motivation, (2) resources and (3) market opportunities.
Yes, much of the literature suggests that it is the central role of the business owner, that determines future growth or even a chance of firm survival. A study by Orser (1997) found that firms whose owners had stated five years previously that they wanted to grow the business were now more successful, while the majority of firms owned by entrepreneurs who did not prioritize growth had either not grown or had failed.
Does that mean it's all in the mindset? Well, yes. Growth intentions significantly influence growth outcomes. And combining growth intentions with competitive advantage and managerial skills, determines the growth outcome of the firm. So, it is crucial, that a business views the barriers and challenges as opportunities. And that is the mindset that separates high-growth firms from others.
Combining that mindset with competitive advantage and managerial skills is the right way to grow.
Knowing all the key internal factors that influence firm growth, you can develop a Growth-Oriented Business. Identified and classified by Storey (1994), the key components are entrepreneur, firm, and strategy. As can be seen below, Storey identified the key elements to each component and argued that all components needed to combine appropriately for the firm to achieve growth.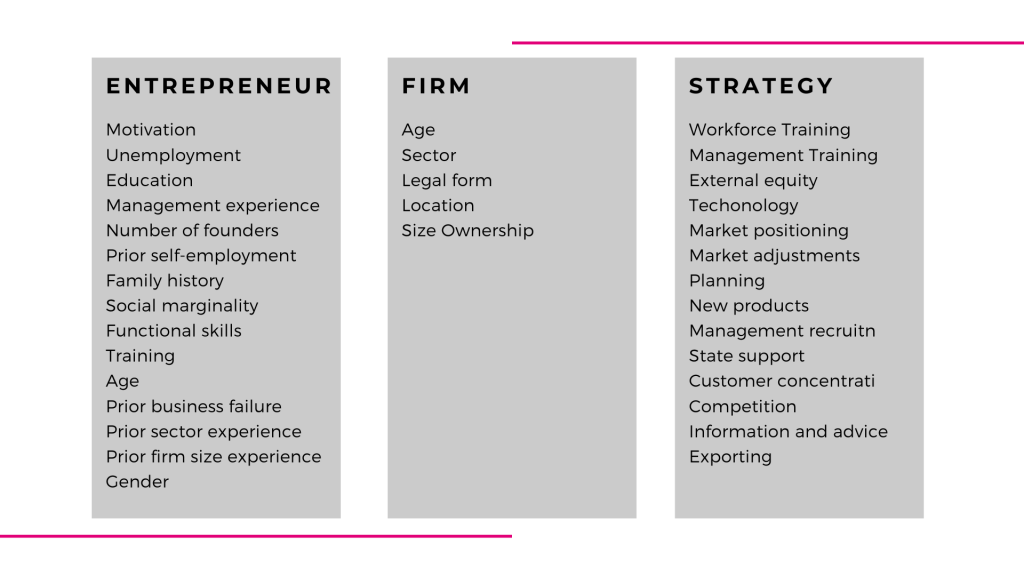 So, each component offers indicators of where weaknesses might exist in the alchemy required to create a high-growth firm. If you keep these in mind, you might make your business a success.
Click here for the second part of this article.